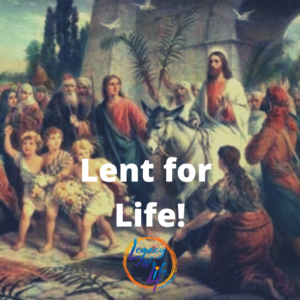 Hard to believe it's Palm Sunday weekend and we'll be home saying…
"Hosanna to the Son of David: Blessed is He who comes in the name of the Lord; Hosanna in the highest."
As we continue to get used to life as NOT normal Let's continue to remember that this is exactly what is happening in Jerusalem once Jesus entered that city On Palm Sunday!
Things were NEVER going to be the same again! And over the centuries,  as He did during the days that followed, to Good Friday and through to His Resurrection… And as He is doing today, GOD IS SHAKING THINGS UP! 
And we will never be the same!
As Christians we really shouldn't want to be the same! As humans we don't like change. But change is what God is all about!  Transformation!
In the Gospel this Sunday (Matthew 26-27) we can see the Passion of Our Lord start to unfold! (Some of us I'm sure have had to exhort our children during the LONG Gospel on Palm Sunday to keep standing - now we might be wishing we could be there to stand!) Everything is changing - it's the Passover - but it's a different Passover…
Jesus says, "Amen, I say to you, one of you will betray me,"
Someone in the inner circle is changing - going from close friend to betrayal?
Then Jesus says, "Take and eat; this is my body."
Everything is changing - Jesus now IS the lamb of GOD? And then here it is, Jesus says,
"This night all of you will have your faith in me SHAKEN, for it is written: "I will strike the shepherd, and the sheep of the flock will be dispersed:"
Isn't this what we are going through RIGHT NOW?!?
This Coronavirus is an evil attack - and not only against Christians but the whole world! We are under attack - and we are all dispersed - separated - we have to hide out against the evil in our own homes like the early Christians did…
Jesus then gives them hope,"But after I have been raised up, I shall go before you to Galilee."
Jesus will never leave us abandoned - He always goes before us! That is a message of hope today for us! We need to trust, accept, watch, listen and pray as God shakes things up in our lives right now!
WE don't want to be in denial about what is going on!!! Because if we are in denial - we could very well end up denying JESUS!
Peter said to him (Jesus) in reply, "Though all may have their faith in you shaken, mine will never be."
And we know what happens next, or maybe we forget this…
Jesus said to him, "Amen, I say to you, this very night before the cock crows,
You will deny me three times."
Peter said to him, "Even though I should have to die with you, I will not deny you." And all the disciples spoke likewise.
WOW!  Right now this Gospel speaks to us all! We have all been shaken - and the ones we love too! We have to hold on to the HOPE that Jesus always goes before us and He is with us!
We pray this way every morning with the Legacy of Life Foundation Staff before counseling the women!
That God would grant us the serenity, to ACCEPT the things we cannot CHANGE, the COURAGE to CHANGE the things we can, and the WISDOM to know the difference!
As we continue to minister to women in crisis pregnancies and you continue to minister to your family and loved ones… Let us all pause this Palm Sunday and surrender to the ONE who we know is always going before us! The ONE who is a WAYMAKER! Jesus is Making all things NEW!
God bless you and your families! Enjoy the feast of Palm Sunday!
Marie