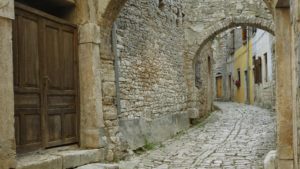 Heading for the Cross during this Holy Week?  I've got mixed feelings!
It's exciting to think of the gift of Easter coming -- but we've gotta get through Jesus in His agony, walking with His cross and the Crucifixion first.
It's such a blessing to be working with the pregnant women who need help carrying what they believe is their cross…
- all the while knowing that the greatest blessing is what they are carrying inside of their womb!
Their Baby!  
The Unplanned Pregnancy can be the greatest horror for a woman in life!
It can be filled with shame, guilt, fear, pain…
And yet the pregnancy is the greatest blessing the woman can ever experience!
The gift of God's unconditional love!
It's important this Holy Week to remember that the sin that got a woman to the unplanned pregnancy is not greater than the mercy and the blessing of the baby she is carrying!
We don't want to judge her sinfulness!  We hate the sin and love the sinner!
We want to be Veronica and Simon who journeyed along side Jesus while he was carrying His cross!
So many of you are just like the few who were there for Jesus… all the way to Calvary!
You help make sure the pregnant mothers have the help they need to get all the way  to delivery!!!
Please pray in a special way during these Holy Days that every woman receives the support she needs to journey to God's plan for life!
God bless,
Marie