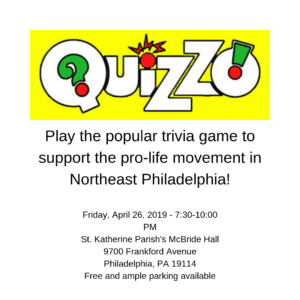 The funds raised by this Event will support pro-life outreach activities, such as the I-95 Billboard, and assist the
Legacy of Life Foundation's crisis pregnancy centers.
Admission is $25 each and sponsorships at various levels are available by
- visiting HV50Philly.com/Events and paying with a credit card;
- check payable to "N.E. Phila. Pro-Life Foundation," to 3501 Solly Ave, Bldg D, Suite 118, Philadelphia, PA 19136;
- calling 215-885-6780 or emailing paprolifecoalition@gmail.com; or
- paying at the door with cash or check.
Admission includes pizza, beer, soft drinks, water and snacks. Attendees are welcome to BYOB.
This event is sponsored by the Pro-Life Educational Foundation, Generation Life, the Northeast Philadelphia Pro-Life Coalition, and St. Katherine Parish's Respect Life Committee.
For additional information, contact Lisa Beck at 267-574-5854; lisa.mcardle.beck@gmail.com.
We look forward to seeing you there!