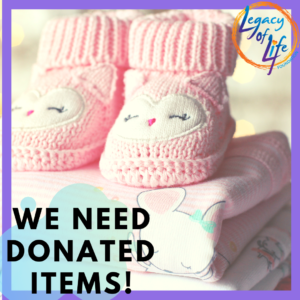 You can give confidence and dignity to moms in need by helping them provide for their children!
Our STAR Motherhood Program provides not only material, but the social and peer support a mother needs to grow in her confidence as both a woman and a mother. This program lasts up to three years, and babies grow up! That is why clothes and diapers of all ages are needed, so that we can walk together with the women and help them to provide the basics for their growing children! Please see our list of most urgently needed items listed below.
Thanks to so many generous supporters, we have an abundance of onesies, bibs, newborn diapers, baby oil, pacifiers, socks, knitted hats, and knitted/crocheted blankets, so we are not in need of these items at this time! Thank you!
What We Need:
Clothing-- boys and girls sizes 12 months - 4T (2T - 4T Needed Most)
Diapers -- Sizes 1-6, Huggies and Pampers preferred, or any hypo-allergenic brands
Pull Ups -- 2T, 3T, 4T, 5T
Baby Wipes -- unscented
Baby Shampoo, Baby Wipes, Baby Lotion
Diaper Rash Cream
Teething Toys
Burp Cloths, Towels, Wash Cloths
Shoes
Backpack Diaper Bags
Sun hats, Cotton hats
Receiving Blankets
Baby bottles, Sippy cups
Baby Food
"Similac Pro Advanced" Formula
Children's Clothes - 2 Years and Up
Since our program seeks to empower the mothers by encouraging them to earn the clothes and diapers they can "purchase" at the center, and due to liability concerns, we accept only new clothes, strollers, car-seats, etc. for the safety of our moms and their babies. Thank you!